My iPhone.  My original, first generation iPhone.  After 3 years of being faithfully by my side, she died yesterday.  On Valentine's day.  I'm not one to get all mushy about technology, but I loved her.  Even though the power button stopped working months ago and the vibrate function only worked about half the time, I wasn't going to upgrade until she finally kicked the bucket.  And yesterday, she did just that. So, unfortunately, a good part of my V-day was spent frantically trying to upgrade and get a new phone.  I am now the owner of an iPhone 4.  She may be faster and sleeker, but I'd be lying if I said that a part of me doesn't miss my old one. I'm just loyal like that.
In honor of my late iPhone, here's a look into my Valentine's day through the lens of my new iPhone.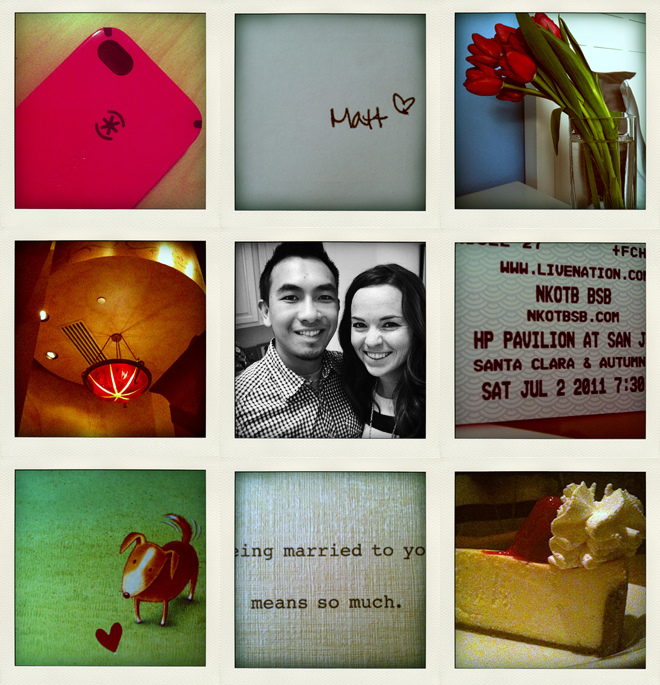 From left to right:
1.  Check out my new, hot pink iPhone case.  Bright and cheery.
2.  Matt.  My Valentine.  Even after almost 10 years (!!) together, he still knows how to continually make me melt.  I am so lucky to have a guy that always goes out of his way to show me I'm loved and special.
3.  I love tulips.  I woke up to these beauties yesterday.
4.  When asked where I would like to go for dinner, I said that all I wanted was cheesecake.  So, fittingly, we dined last night at the Cheesecake Factory.  We were seated in the corner of the restaurant that had this beautiful light above.
5.  Us.  ♥
6.  Anyone that has known me for a long time is aware that during my teenage years, I loved the Backstreet Boys.  Nay…I was obsessed with them.  I have grown up and changed a lot since then, but they will always hold a special place in my heart.  And with the recent announcement of the NKOTB BSB tour, they are back!  I'd be lying if I said I didn't want to go to the concert but I never got around to buying the tickets. My Valentine's day gift from Matt?  Two tickets!  That's where we'll be July 2nd.  Just look for the girl singing at the top of her lungs and dancin' like a fool.
7.  I even got a Valentine from Chloe this year.  Best doggie ever!
8.  "Being married to you means so much"  It really does.  I am so proud to be your wife. I love you Matt.
9.  Cheesecake.  Glorious cheesecake!
Happy Tuesday!