It had been 6 years.  6 wonderful years together and to celebrate our anniversary, we went back to the place we had called home for 2 years, Hawaii.  On the first night of our vacation, he proposed.  I shrieked, jumped around and did a happy dance.  I screamed "YES" and ran into his arms and kissed him.  Kissed him for the very first time as his fiancée.
Even though this trip to Hawaii was about 4 years ago, it changed my life in more ways than one.  Not only was it the trip where we got engaged but it was a trip where I stared fear directly in the face.  You see, shortly after Matt proposed, we decided to celebrate by going skydiving.  It was something we always wanted to do but never did.  We thought what better place than Hawaii and what better time than now.  We booked it and one morning, bright and early, a van came to pick us up and shuttle us to North Shore Oahu.  From the moment I woke up that morning, I was scared to death.  When we arrived, my fear overcame me.  I was chickening out.  I couldn't do this.  No matter how much I wanted to, I couldn't.  I came up with millions of reasons why I shouldn't do this.  I told Matt that I was scared beyond belief and that I didn't see how I was going to actually skydive.  I agreed to finally go along with it but only if I could back out at any point.  As I was getting harnessed in, my legs felt like jello, my stomach was in knots and I thought I might pass out.  I have never, in my whole life, been that scared.  Completely petrified.  Still to this day, I don't know how I got on that plane.  I remember sitting there with my tandem guide as we took off and thinking how embarrassing it would be when the plane would land and I would still be on it because I was too afraid to jump.  Lucky for me, my tandem guide wasn't going to give me that option.  We were in the front of the plane so we had to jump first.  Yes, I said first.  Before I knew it, I was at the door and being told directions on how to fall.  And then, he said the words I was dreading.  "Are you ready?" I knew there was no going back.  I could do this.  I had to do this.  I took a deep breath and said yes.  I closed my eyes and jumped.  Seconds later, I opened them.  It was incredible.  It was a cloudy and overcast day in Oahu but all I saw was bright sun.  We were above the clouds.  We were falling so fast that it felt like we were flying.  There are no words to describe how amazing it was.  I couldn't stop smiling the whole way down.  Once we landed, tears of joy were rolling down my cheeks.  I did it.  I had faced my fear and survived.
I remind myself of this moment often.  Because many times, I let fear run my life.  If something scares me, I talk myself out of doing it.  For the past year or so, I've made the decision to stop fear all together.  Sure, it's still there but it's not in control.  If my first reaction to something is being afraid, then I know it's something I need to do.  To take myself out of my comfort zone so I can grow.  I try and use fear now to push me farther instead of holding me back.  It's easier said than done because fear is powerful.  But I stared it in the face that day when we skydived.  And I conquered it.  I would have missed out on such an amazing experience if I let it win.  But it didn't.  Here's to many more moments in life where fear isn't victorious.
Onto a few pictures from our day of skydiving.  As you can see, I couldn't even look out the window.  Matt, on the other hand, was excited!  And then, it was go time. Head first towards the clouds.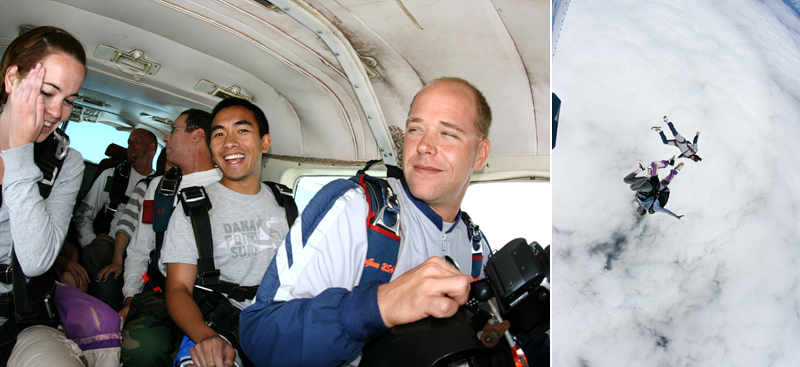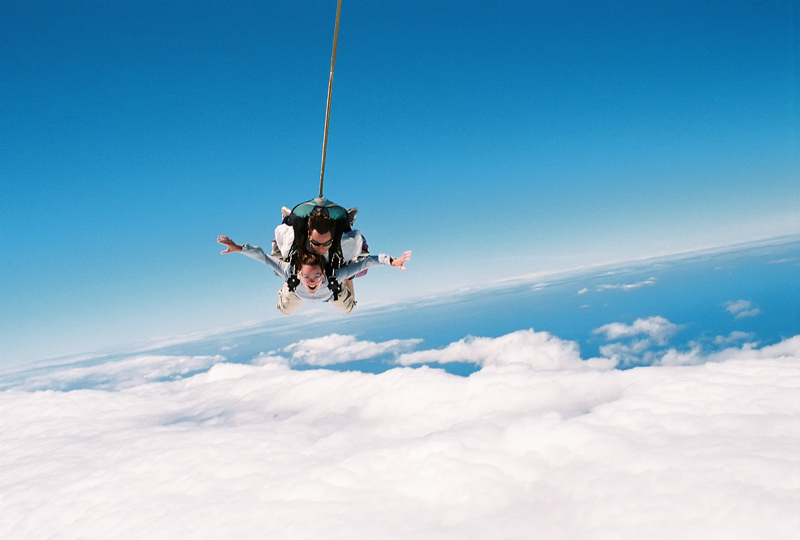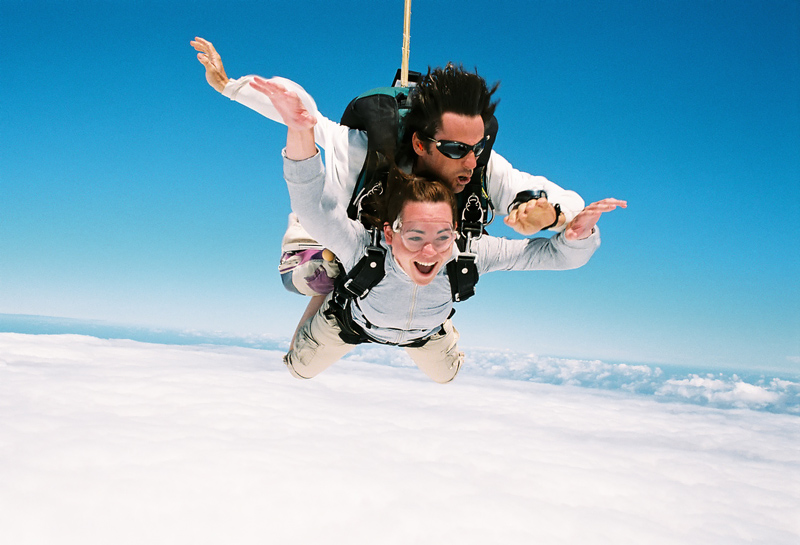 *note:  All pictures were taken bySkydive Hawaii.  If you are ever in Oahu and want to skydive, check them out!
"Too many of us are not living our dreams because we are living our fears."
– Les Brown