In honor of our little babe, Maddie, turning one last week, I wanted to reminisce and share the story of the days that eventually led to meeting our little blessing for the first time.  And I'm so thankful that my dear friend, Megan Tsang of Megan Tsang Photography was there to take photographs and document this monumental day in our lives.  All the photos below were taken by her.
When I was pregnant (and especially in those last few weeks of pregnancy), I was obsessed with reading birth stories.  I don't know if it was to gather as much information as possible or a way to mentally prepare myself for childbirth, but it became my new favorite hobby.
But just as each child is entirely different, so is their birth story.  Maddie's was one that took us on a wild ride that no book or birth class could prep us for but in the end, she arrived.  All the pain and exhaustion became 100% worth it and she instantly stole our hearts.
So onto her birth story.  I know some people may have no interest in reading all the details or may think that it's over sharing but since I loved reading birth stories so much, I wanted to share ours for those who may be interested.  And here it goes.  Her due date arrived and we, of course, were quite anxious to meet her but wanted it to be on God's timing and not on our own impatience. The last few weeks of pregnancy were tough.  Every part of me was sore and swollen and I was definitely ready to close the chapter on pregnancy and begin the mommy one.
Contractions started in the early morning 3 days after her due date and after so many false alarms, I waited them out but they didn't let up no matter what I did.  I had an appointment with my OB that afternoon anyways so I called to see if we should keep that appointment but she wanted to see me earlier so we headed to the doctor's office.  I was dilated the same as I had been for the past week at 1.5 cm but baby had dropped lower and based on everything, she thought this was the real deal and was hopeful that it wasn't a false start and suspected I would be in full blown labor by the evening.  We went home and I tried to get as much rest as I could between contractions.  Contractions were consistently 6-8 minutes apart but they were getting longer and stronger.  Midnight arrived and we headed to bed but I barely slept.  Around 4:30 am, we decided to head to the hospital because the pain was more intense and contractions were about 5-8 minutes apart.  We arrived and I got checked out only to find that the dilation was exactly the same as it had  been, 1.5 cm.  We got sent home and I was so frustrated.  I had been in early labor for 24 hours and was exhausted after 2 nights of little to no sleep.  The pain was doable but was definitely wearing me out.  We got back home around 7:30 am and I somehow slept for 4 hours and through most of the contractions.  When I awoke, contractions were 5-7 minutes apart but lasting over a minute each.  By 3:30pm, they were still 5-7 minutes apart but lasting even longer and the pain was becoming too much to talk or walk through so we called my doctor.  I didn't want to go to the hospital only to get turned away again.  She was the on-call doctor at the hospital that afternoon and she said to come on in.  When we arrived, we got set up in a room and I was checked again by my doctor and thankfully, I was 4-5 cm dilated.  I burst into happy tears to finally have some progression and that we would be staying and able to get settled. We got our stuff into our room and I tried to stay as active as possible.  I wanted to have a natural birth as long as I possibly could but also wanted to be flexible in case I changed my mind or the pain was too much.  It was my version of a loose birth plan because I didn't know what to expect and wanted to try and just roll with it.  So we walked up and down the halls in between vital checks to try and keep things progressing.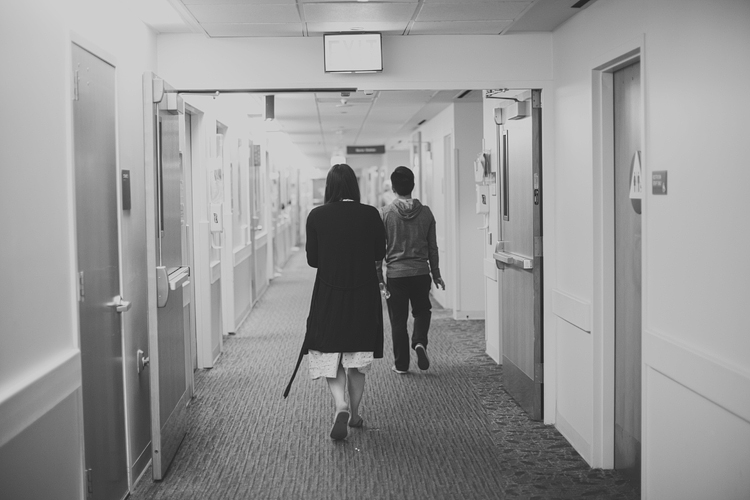 Thankfully, because there was no medical reason at the time, I wasn't hooked up to any machines on a regular basis or an IV.  Contractions were still about 5 minutes apart and while they hurt, the moments in between I felt totally fine.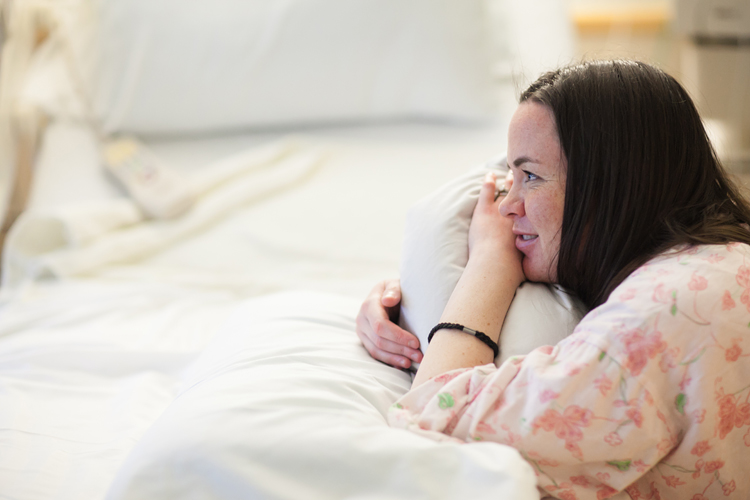 My mom arrived soon after we checked in as did Megan.  Dinner arrived and I was able to eat and chat in between contractions.  Things were going pretty well and mentally, even after being in labor for 36+ hours, I was still feeling strong.  The contractions were painful but after each one, there was a break and I felt like I could manage the pain.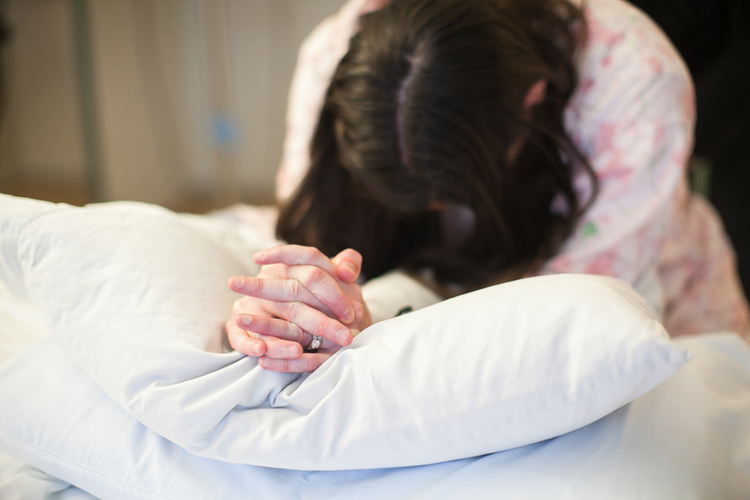 My sister arrived mid-evening and the doctor came back in again to check my progress.  Unfortunately, not much had changed since we had checked in about 5 hours ago and was still at about 5 cm.  The contractions were getting closer together and stronger and the doctor suggested breaking my bag of water to try and speed things up.  We decided to go ahead with that and afterwards, things got crazy and became a bit of a blur.  There was meconium in the water so there was that to be cautious of.  Soon after, my contractions picked up steam and became super intense.  My nurse who also had been a mid-wife for years, set up the shower for me to lessen the contraction pain.  It definitely helped and I stayed in there as long as I could.














Once I got out though, the contractions were near unbearable.  I was trying to get dressed and they were so intense and kept coming one after the other. There were no more breaks between contractions to regroup and recover.  I could barely stand and laid down in bed and just remember crying through the pain.  It came on so quickly and so strongly that I just wasn't prepared and my body soon became exhausted from all the hours of labor previously.  I knew I didn't have the energy to continue without some help.  I told my nurse I would need an epidural.












I was so scared to get the epidural. More so than most things in labor really.  But I knew my body was so weak from being in labor for 39 hours already and I just needed to rest.  There were a few people ahead of me on the list so the nurse gave me some pain meds to take the edge off as we waited. Once I received the epidural, the pain started to subside and I tried to nap as best I could.  It really became a blur at this point.  The lack of sleep caught up with me and I was mentally and physically exhausted.  Over the course of the next hours, my blood pressure dropped really low and I had to be put on oxygen as well as another medication to bring it back to a safe level.  My labor slowed and I was given pitocin.  I was frustrated that my want for a natural childbirth (for as long as possible) ended up being anything but that as time went on, but as Matt reminded me, it was all about being cautious and making sure Maddie was safe.  We just had to deal with the way things were turning out.






We all tried to get some rest in those wee morning hours and soon the sun was up as were we.  It gave me a renewed spirit and I thought happily that today, we would finally meet our little baby girl.


My progress was checked again and I was at about 9 1/2 inches but Maddie wasn't in the right position (we had been trying for hours to get her to turn) and I had an anterior cervical lip which basically needed to move before I would be able to push.  I was given the option to go ahead and let them try and turn and move it out of the way which could work or could also land me with having to have an emergency c-section if Maddie didn't respond well.  I could also opt for the c-section straight away which was what they recommended.  I was heartbroken.  I just remember crying and crying that my goals of a natural childbirth were slipping further and further away.  It had been 12+ hours after they had broken my water and they were concerned with Maddie's well being as well as my ability to even muster the energy to push after 49 hours of labor.  I didn't want to endanger Maddie's health at all and relied on the advice of Matt, my family and doctors and decided to go ahead with the cesarean.  It was a flurry of activity as I got prepped for surgery.  I was so scared and so emotional but I knew soon I would be meeting my little Maddie.  Meg offered to pray which gave relief and support to my fragile mind and I'm so thankful for that.  Soon after, I was wheeled out of my room and into surgery and anxiously waited for Matt to come in.  I was moved from my bed to another table where the procedure would be preformed.  They put up a curtain so I couldn't see and started administering meds and pain relief through my epidural.  I started shaking uncontrollably as a reaction to some of the meds and was freezing.  I felt just helpless, frightened and nervous.  Probably more than ever before in my entire life.  Matt finally came in and just seeing him offered me some relief.  I remember feeling so much pressure on my abdomen as the procedure began and became extremely nauseous.  Matt held my hand and kept speaking encouraging words throughout it all.  Suddenly he exclaimed, "Oh my gosh, I see her and she's got a full head of hair!"  His voice was choked up and emotional.  She had arrived into this world.  We were parents.
After for what seemed like an eternity, the nurse brought her over to us and I got my first look at her.  She was just perfect.  Gorgeous.  I longed to hold her, be close to her but I was so tired and could barely keep my eyes open.  I kissed her on her forehead before she was whisked away to continue to get checked out and measured.  Matt went with her and I drifted in and out of sleep as they finished with the procedure.
Back in the recovery room, she was brought to me and she snuggled into my arms.  It's a moment you want to do nothing but relish and enjoy but exhaustion got the better of me.  I fought to stay awake and try to be aware.  I wanted to just stare into those beautiful eyes and smell her sweet skin but my body was just broken down.
Out of everything that didn't go according to "plan", this was the hardest to take.  I never imagined being this out of it during Maddie's first few hours on earth.  It was far from what you see in movies or tv and definitely wasn't what I had envisioned and it broke my heart.  I almost felt robbed in a way that might be hard to understand but that's how I felt.  In fact, it took weeks to fully "mourn" that I lost out on those first moments and ended up having to have a c-section rather than a vaginal birth.  I felt that I was cheated out of an experience that I had envisioned for so long.
But she was here.  She was healthy.  I was healthy.  I tried to put everything behind me and focus on my little miracle.  My heart instantly fell in love with her.  As did the rest of our family.


















The road of recovery was longer and harder than I had hoped but her sweet face and newborn snuggles kept me going through the discomfort and exhaustion.
Childbirth is a funny thing.  So much pain and fatigue but at the end of it all, you get the greatest gift and all the bad parts eventually fade quietly into the background.  You would do it again in a heartbeat.  Because the first time you hold that adorable little human in your arms, you are forever changed. In the best kind of way.